K H Medical Elective Hostel

" The medical students staying at the hostel of the hospital.
Agnes gives you a warm welcome and will also show you around the hospital at the first day.
Tips for in and around the house, the hospital and weekend entertainment.
1. The hostel. There are enough rooms so run for the best!
Agnes is the hostess who takes care of you;
for breakfast and dinner drinking water in the fridge
Clean the bedroom and beds once a week helpful with the local language ATESO
You will have lunch at the hospital
There is a Rolex (omelette and chapatti) salesman at the gate of the hospital.
Do the laundry yourself, handy when you know that there is power to use the kettle.
Eating in the Guest House on Wednesday, doctors / volunteers staying here,15,000 cash per dinner.
There are 2 books in the hostel, one keeps track of what you do per day eat in the other and whether you use the accommodation and
supper.
The ride with a bodaboda to Kumi Town for 1 person is 2,000 Ush, for 2 people 3,000 Ush.
There is a flow meter in the bedroom opposite the kitchen. This is running off and at 0 you have no more power. At ict department you can get one for free.
Request TOKEN code to upgrade the flow meter.
2. The hospital. Agnes brings you the first day to it.
Hospital.
You go to the Hall of Hope, a church-like meeting room.
The service starts at 7.30 but traditionally the co-assistants move
around 8 a.m.
Monday to Wednesday there is a service and on the first day you have to your proposals (in Ateso)
With a bit of luck on Wednesday there is a clinical lesson (CME) after the sermon.
You have to dance on Thursday and no one is usually present on Friday.
The meeting ends well on the last Monday of the month because of the many announcements by the MD.
After the Hall of Hope you can visit (Ward Round) on 3 different ones
departments
2.1. Paediatric medicine + Internal medicine
Start in Stone Ward with Doctor Eprhain (say Effrim)
2.2. Surgery
Start in Ojikan Ward with MD Dr. Alinda
Dr. Philip and Dr. Raymond alternate the Thursday with orthopaedics and OR.
2.3. Maternity
Start in maternity with doctor David.
Specialist dr. David does clinic on Wednesday and OK on Thursday
After the WARD, wait until 1 p.m. for lunch.
a number of options:
OPD (Out Patients Department) - Here all patients are treated by the
Clinical Officer, a kind of nurse specialist. Some become
then recorded.
ART (Anti Retroviral Therapy - the use of HIV medicines)
On Tuesdays and Thursday.
Very nice people, you can also ask for Gitai Island Outreach
Antenatal Care - Pregnant consultation and NUTRITION Rose and Harriet
Especially nice on Mondays, feeling a little belly or giving vaccinations
Orthopaedic Clinic - with one of the orthopaedic officers (Robert or
Olivia)
Laboratory. Not really much to do but you can go to this one time malaria under the microscope.
---
K H Guest House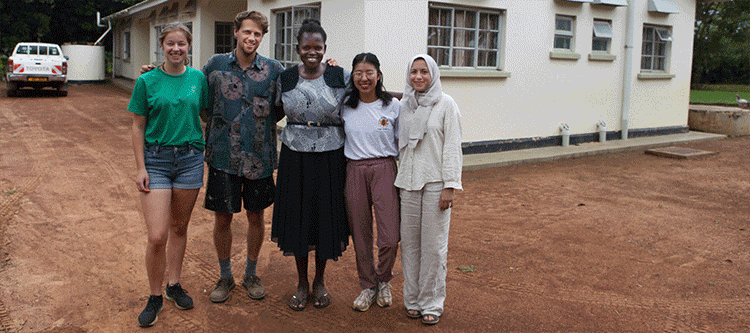 " Yesterday evening arrived after a special bus trip at the guesthouse of Ann & Grace in Kumi Hospital. Our new home for the next three months.
How rural, peaceful and quiet it is here; a relief after the days in busy Kampala. The streets are unpaved and red, the grass has the typical round huts with thatched roofs, children are waving along the road, cows and goats are walking loose on the street, women are carrying heavy baskets on their heads.
We are received very warmly here, both by our hostesses Ann & Grace, as well as by other villagers, the other medical students (four- or fifth-year students, but almost entirely as a doctor's assistant) and other hospital employees.
We have a lovely private room with bathroom in the guesthouse and every night we and the other medical students cook. We are going to start tomorrow, I am very curious. "
Weekend trips.
This is a beautiful country – make the most of being there!
Getting out of Kumi Hospital
– if you feel the need to get out, there're a number of options. If you need more than a Bodaboda to get somewhere, you can ask the administration at the hospital to organize you a driver, the driver will cost approx. Ush 1500 per kilometer driven – but it's expensive, usually a cheaper option is to just take public transport. Places within reach for a weekend trip include:
1. Lake Bisina – it's not quite along way to travel but worth it for a weekend. Very relaxing and very beautiful, it's where Kumi Hospital pumps it water from.
2. Nyero Rock Paintings
3. Sipi Falls- it's located on the Slopes of Ssebi Mountains
Other places to visit are more local and ask people at the hospital for details on how to get there:
4. Ongino Market – happens every Friday starting at around 8:00am. Great for food, clothes and fabric for taking to the tailors. Worth going after 5pm because of the oppressive heat! You'll be able to see the path going to Ongino from the number of people walking up and down it from the main road in Kumi.
5. Kumi Town– easy to get to, get a boda boda from outside the hospital gates to Kumi Town for one person the fee is Ush 2000, for Shared Bodaboda the fee is Ush 1500 per individual, and likely getting back to Kumi Hospital you can still use a Bodaboda either Shared or not the choice is yours.
6. Odelo Market – happens usually on Saturday starting at 09:00am, it's known for fresh foods
There are plenty of other things to do, this is just a taster.