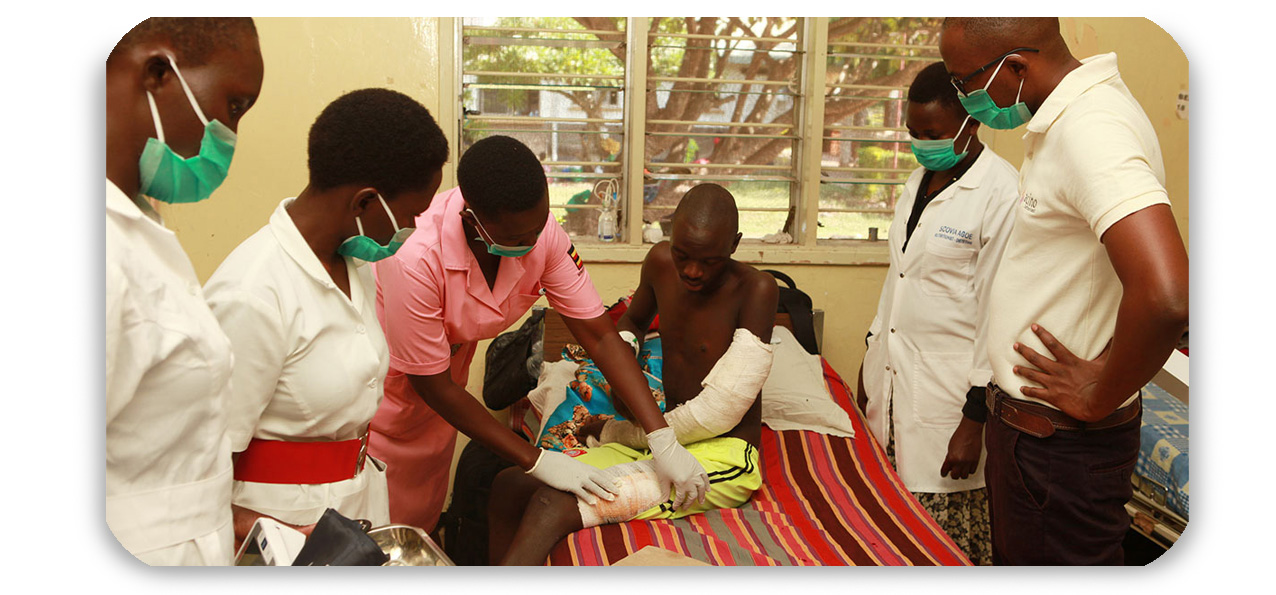 Clinical services
Mission
We shall provide holistic, preventive, curative and rehabilitative services that are efficient, accessible and affordable to all, based on the healing Ministry of Jesus Christ.
Vision
To be a centre of excellence, providing high quality healthcare and rehabilitative services with strong Christian values.
---
Surgical clinical discussion topics
1. Assessment of the surgical patient
2. Leprosy management and care
3. Surgical Theatre Safety
4. Assisting in theatre - aseptic technique
5. Infectious surgical conditions - Osteomyelitis, Abscesses, arthritis, Enteric fever and its complications, Appendicitis
6. Principles of trauma
7. Principles of surgical toilet and suture
8. Principles of wound care
9. Urological conditions BPE, Ca Prostate, vesico-vaginal fistula
10. Abdominal Conditions Abdominal mass, Acute Abdomen, Intestinal obstruction
11. Typhoid perforation
12. Leg ulcerations
13. Fractures
14. Osteomyelitis / Septic Arthritis
---
Free health care services
1. Tuberculosis treatment
2. Leprosy management and care
3. Prevention of Mother To Child Transmission
4. HIV Counselling and Testing
5. Anti-Retroviral Therapy
6. Antenatal care services
7. Immunization outreaches
8. Blood transfusion
9. Nutritional Rehabilitation
10. Vesico Vaginal Fistula repairs (VVF)
11. Community Based Rehabilitation Outreach
---
Obs & Gyn recommended clinical discussion topics
1. Prevention of maternal to child transfer of HIV
2. Illness in pregnancy – anaemia, malaria, pre-eclampsia, eclampsia, diabetes, asthma, Graves' disease
3. Abortion and Post abortal care
4. Management of Normal labour
5. Mangement of complicated labour – obstructed labour
6. Complications of pueperium – haemorrhage, sepsis
7. Management of gynaecological malignancy Cervical Cancer Screening
8. Obstructed Labour (complications)
9. Abortion and post abortion care
10. Prevention of maternal
---
Tropical diseases
* Malaria
* Meningitis
* TB /Leprosy
* Opportunistic Infections in HIV
* Sickle Cell Disease
* Dysentery
* Typhoid
* Malnutrition.
* Pneumonia
* Leprosy
* Cholera
* HIV / AIDS
* Schistosomiasis
* Diabetis
---
Paediatrics clinical topics
* Diarrheal Disease
* Meningitis
* Lower Respiratort Tract Infections
* Sickle Cell Disease
* Sick Neonate management
* Sick Newborn management
* Investigating Failure
* Dehydration management.
* Meningitis
* Malnutrition
* PUO
* HIV / AIDS
---
Health care services at our hospital
KH will consolidate its focus on the current facility-based services on offer. We will endeavour to improve our healthcare services which include preventive, curative and rehabilitative but with emphasis on rehabilitation. We will sensitize community members on the different categories of services we offer i.e. those that are free, those that are highly subsidized and those with tagged recovery costs.